Minister Onghsang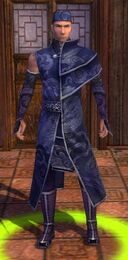 Classification
General
Minister Onghsang is a minor minister of the Celestial Ministry, one of the many government officials standing around in Kaineng City, supervising the situation.
Quests Involved In
Location
Dialogue
"If you want to speak to me you must first learn to spell my name! It's spelled the way it sounds. Onghsang. ONGHSANG! Say it with me! Let the beautiful sound fill your ears.
Oh, what do you want?"
Notes
Ad blocker interference detected!
Wikia is a free-to-use site that makes money from advertising. We have a modified experience for viewers using ad blockers

Wikia is not accessible if you've made further modifications. Remove the custom ad blocker rule(s) and the page will load as expected.