Minister Baasong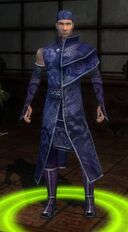 Classification
General
Minister Baasong is a minor minister of the Celestial Ministry, one of the many government officials standing around in Kaineng City.
Quests Involved In
Location
Dialogue
"Commoners make the most wonderful pets, except for the fact that they can talk. Perhaps there is a muteness spell to correct that...
What do you want?"
Ad blocker interference detected!
Wikia is a free-to-use site that makes money from advertising. We have a modified experience for viewers using ad blockers

Wikia is not accessible if you've made further modifications. Remove the custom ad blocker rule(s) and the page will load as expected.