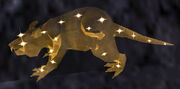 The Miniature Celestial Rat is a miniature randomly given as a reward for using Lunar Fortunes.
Acquisition
Trivia
Year 2008 was the Year of the Rat according to the Chinese Lunar Calendar. It did not exactly coincide with the Western Calendar, and actually lasted between 7 February 2008 and 25 January 2009.
See also
---
Ad blocker interference detected!
Wikia is a free-to-use site that makes money from advertising. We have a modified experience for viewers using ad blockers

Wikia is not accessible if you've made further modifications. Remove the custom ad blocker rule(s) and the page will load as expected.