---
Warning: The following text contains spoilers relating to the plot of the Factions Campaign.
---
Messenger Vetaura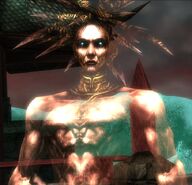 Classification
General
Messenger Vetaura is an Envoy, an emissary of the Mists who shepherds the dead. He has teamed up with the other Envoys to defeat Shiro Tagachi. His apparition appears at several points in the Factions storyline to provide guidance to the players.
Location
Trivia
Messenger Vetaura (especially his hair and eyes) bears a strong resemblance to the character of "Dream"[1] from Neil Gaiman's Sandman. This may be intentional, as both Vetaura and Dream are spectral entities that serve some sort of shepherding purpose.
Ad blocker interference detected!
Wikia is a free-to-use site that makes money from advertising. We have a modified experience for viewers using ad blockers

Wikia is not accessible if you've made further modifications. Remove the custom ad blocker rule(s) and the page will load as expected.