Mercia the Smug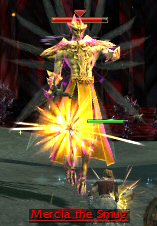 Classification
Map(s)

Location in Abaddon's Mouth
Description
Mercia the Smug is a Mursaat mesmer boss found in Abaddon's Mouth. Along with Optimus Caliph, one of the highest ranking Mursaat, Mercia fought alongside Saul D'Alessio to drive back the Charr invasion of Kryta.
Location
Skills used
16 in Domination Magic (20 in Hard Mode)
Dialogue
"Our plans are far too complex for you to understand, disciple. Do not bother trying to comprehend them."
Items dropped
Notes
Trivia
Mercia means mercy in Latin.
Ad blocker interference detected!
Wikia is a free-to-use site that makes money from advertising. We have a modified experience for viewers using ad blockers

Wikia is not accessible if you've made further modifications. Remove the custom ad blocker rule(s) and the page will load as expected.