Merchant Orek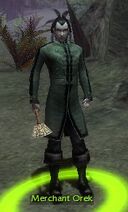 Classification
General
Merchant Orek is a merchant hired to deliver supplies to Saint Anjeka's Shrine. He is with three other nameless merchants.
Quests Involved In
Location
Dialogue
Merchant Orek:
"Are you in need of new equipment? Looking to unload some goods you no longer find useful? I offer fair prices and a two-year guarantee on all merchandise."
Merchants accompanying Orek:
"I am honored to meet you"
Trivia
Merchant Orek and the three NPC merchants that accompany him use wands that have the same appearance as Phi's Wisdom.
Ad blocker interference detected!
Wikia is a free-to-use site that makes money from advertising. We have a modified experience for viewers using ad blockers

Wikia is not accessible if you've made further modifications. Remove the custom ad blocker rule(s) and the page will load as expected.