Merchant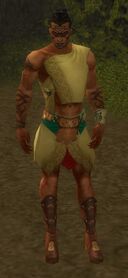 Classification
Map(s)

Gates of Kryta
General
The Krytan merchants take part in several missions. One of them can be found arguing with Josephine in an outpost, close to the city of Lion's Arch.
Location
Skills Used
In Divinity Coast:
Dialogue
In Gates of Kryta:
"Sorry, I don't have anything you'd be interested in."
In Divinity Coast:
"Don't expect a reward."
"On behalf of my daughter, I thank you for saving my life."
"You're my hero."
Quotes
In Divinity Coast:
"I'm a very rich man. I don't deserve to die."
"NOOOO!"
"Pecked to death by a bird! What a terrible way to die."
"Please, I have a family. Don't kill me."
Ad blocker interference detected!
Wikia is a free-to-use site that makes money from advertising. We have a modified experience for viewers using ad blockers

Wikia is not accessible if you've made further modifications. Remove the custom ad blocker rule(s) and the page will load as expected.