Mehinu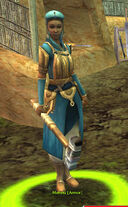 Classification
General
Mehinu crafts standard armor intended for new characters with Core or Nightfall professions. All armor pieces have basic armor stats. Each armor piece has an empty slot for adding an insignia. Headgear includes an Attribute +1 bonus. The armor rating depends on character profession.
| Label | Armor | Professions |
| --- | --- | --- |
| Caster armor | 15 | , , , |
| Light armor | 25 | , |
| Heavy armor | 35 | , |
Quests Given
Location
Dialogue
Before completion of quest Armored Transport:
"My armor saves lives. I count every warrior in this village as a testament to my skill. Now did you want something crafted or are you just wasting my time?"
Armor Sets
Excluding "no attribute" headgear.
Ad blocker interference detected!
Wikia is a free-to-use site that makes money from advertising. We have a modified experience for viewers using ad blockers

Wikia is not accessible if you've made further modifications. Remove the custom ad blocker rule(s) and the page will load as expected.