Mau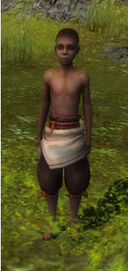 Classification
Dialogue
"My father says I'm not old enough to hunt harpies yet, but they have such pretty feathers! It's my birthday today. Won't you get me some feathers? If you bring me 3 Fledgling Skree Wings, I'll put my whole allowance together and give you:"
Collector Items
Mau
Location: Cliffs of Dohjok, near the Resurrection Shrine east of Jokanur Diggings
Collecting: 3 Fledgling Skree Wings
Ad blocker interference detected!
Wikia is a free-to-use site that makes money from advertising. We have a modified experience for viewers using ad blockers

Wikia is not accessible if you've made further modifications. Remove the custom ad blocker rule(s) and the page will load as expected.