Master of Resurrection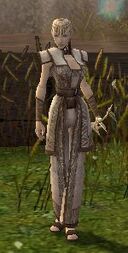 Classification
The Master of Resurrection is one of the Nameless Masters of the Zaishen Order.
She teaches the player about Resurrection.
Right next to the Master of Resurrection, players can find a Resurrection Shrine.
Location
Dialogue
Available options:
Tell me about Life and Death.
Tell me about Resurrection.
Tell me about Death Penalty.