This article is about a part of Guild Wars that has been removed from the game .

Please see the history of this article for further information.

Master of Celebrations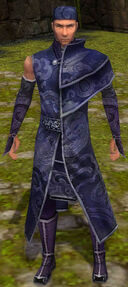 Classification
General
The Master of Celebrations gave out special quests in the Shing Jea Monastery during the Day of the Tengu. These quests involved defeating the mortal enemies of the Tengu, the Naga. As a reward, players could receive Naga Fangs, which they could then gather 250 of to trade for the Tengu Mask.
Quests Given
Location
Ad blocker interference detected!
Wikia is a free-to-use site that makes money from advertising. We have a modified experience for viewers using ad blockers

Wikia is not accessible if you've made further modifications. Remove the custom ad blocker rule(s) and the page will load as expected.