Master of Bows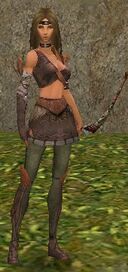 Classification
General
The Master of Bows is one of the Nameless Masters of the Zaishen Order.
She teaches the player on the use of Bows. She explains the various types of bows and their range.
Right next to the Master of Bows, players can find the following Practice Targets:
Location
Dialogue
Available options:
Tell me about Types of Bows.
Tell me about Line of Sight.
Tell me about Height Advantage.
Notes
This Nameless Master looks like Reyna.