Ad blocker interference detected!
Wikia is a free-to-use site that makes money from advertising. We have a modified experience for viewers using ad blockers

Wikia is not accessible if you've made further modifications. Remove the custom ad blocker rule(s) and the page will load as expected.
Master Scout Kiera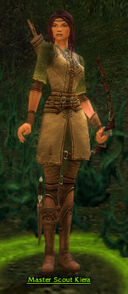 Classification
General
Master Scout Kiera is a skill trainer of the Shining Blade. When you first encounter Kiera, an exclamation point will appear over her head, even though she has no quest to offer.
Location
Skills Offered
Note: Any skills that are not available as quest rewards are listed in bold.
Trainer
Warrior
Ranger
Monk
Necromancer
Mesmer
Elementalist




Master Scout Kiera
at Henge of Denravi
Offers skills covered by the previous 3 trainers (Captain Greywind, Ephaz, and Sorim).
Captain Greywind
at Ascalon Settlement
"I Will Avenge You!", Desperation Blow
Apply Poison, Healing Spring
Holy Wrath, Signet of Devotion
Plague Sending, Taste of Death
Mantra of Concentration, Shame
Armor of Mist, Meteor Shower, Ward Against Melee
Ephaz at
Beetletun
Belly Smash, Galrath Slash
(none)
Essence Bond, Life Bond
Malign Intervention, Rigor Mortis, Touch of Agony
Arcane Echo, Cry of Frustration
Armor of Frost, Lightning Touch
Sorim at
Quarrel Falls
Axe Twist, Counter Blow, Final Thrust, Griffon's Sweep, Staggering Blow
Bestial Pounce, Determined Shot, Otyugh's Cry, Throw Dirt
Dwayna's Kiss, Heal Other, Holy Veil, Life Attunement, Mend Ailment
Blood Ritual, Blood of the Master, Dark Aura, Enfeeble, Plague Touch
Illusion of Weakness, Inspired Enchantment, Leech Signet, Wastrel's Worry
Gale, Grasping Earth, Inferno, Lightning Orb, Water Attunement
Common skills: Signet of Capture