Margonite Warlock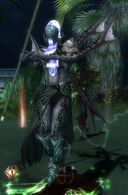 Classification
Description
Margonite Warlocks are the Necromancers of the Margonite forces. Their skills focus more on disabling and softening up foes, rather than dealing direct damage.
Locations
Skills Used
Items Dropped
Notes
They have the same animations and sounds as the Mursaat.
Ad blocker interference detected!
Wikia is a free-to-use site that makes money from advertising. We have a modified experience for viewers using ad blockers

Wikia is not accessible if you've made further modifications. Remove the custom ad blocker rule(s) and the page will load as expected.