The Marga Coast is an explorable area in Kourna. It is, for the most part, a large desert of red rocks. There is, however, a beach to the south, and what looks like a recently dried-up river to the northwest. The army maintains a garrison in this area, overlooking a gorge. Part of the reason for its existance seems to be maintaining control over the village of Ronjok, located in the northeast of the Coast.
Exits
Towns and Outposts
Explorable areas
Points of Interest
An unnamed Kournan garrison.
Creatures
NPCs
Monsters
Bosses
Quests
Marga Coast
Notes
If you have the quest Feeding Frenzy Active, it may make vanquishing easier since you'll have Toma, a level 22 drake that kills any enemy instantly when they reach 20% or lower health.
The unnamed Kournan garrison contains a guillotine.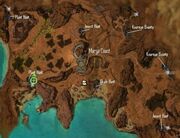 ---
Ad blocker interference detected!
Wikia is a free-to-use site that makes money from advertising. We have a modified experience for viewers using ad blockers

Wikia is not accessible if you've made further modifications. Remove the custom ad blocker rule(s) and the page will load as expected.