Mantle Knight Franklin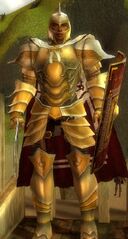 Classification
General
Mantle Knight Franklin is a White Mantle who briefs you on the Divinity Coast mission.
Location
Dialogue
I am here on official White Mantle business.
The test of the Chosen?
What's the Divine Eye of Janthir?
Why is administering the test an honor?
What must I do?
I'm off to Shaemoor then.
Ad blocker interference detected!
Wikia is a free-to-use site that makes money from advertising. We have a modified experience for viewers using ad blockers

Wikia is not accessible if you've made further modifications. Remove the custom ad blocker rule(s) and the page will load as expected.