Mangjo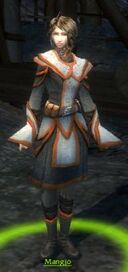 Classification
General
Mangjo is a citizen of Kaineng City and appears to be a long-time friend of Paoko. She randomly spawns along with Paoko and Raiyi. They simply engage in a friendly conversation that periodically repeats. The three of them, like Ling, do not appear to serve any specific purpose.
Location
Dialogue
When spoken to, she uses the standard dialogue of Canthan Peasants.
The conversation is recorded in the corresponding section on Paoko.
Ad blocker interference detected!
Wikia is a free-to-use site that makes money from advertising. We have a modified experience for viewers using ad blockers

Wikia is not accessible if you've made further modifications. Remove the custom ad blocker rule(s) and the page will load as expected.