Maddison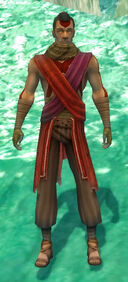 Classification
Dialogue
"Elders claim that over time the hide of the Naga becomes infused with the magic of the Jade Sea. The traditional armor donned by our champions is often padded with an undercoating of Naga hide. If they are tough enough to protect our champions, I could surely use me a Naga hide overcoat! Let's see, I'll need 5 Naga Skins in exchange for:"
Collector Items
Maddison
Location: Breaker Hollow
Collecting: 5 Naga Skins
Ad blocker interference detected!
Wikia is a free-to-use site that makes money from advertising. We have a modified experience for viewers using ad blockers

Wikia is not accessible if you've made further modifications. Remove the custom ad blocker rule(s) and the page will load as expected.