Mac Snowhammer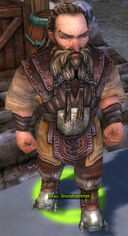 Classification
Location
Dialogue
"I love throwing snowballs! I'm so good a lot of people say to me; "Snowhammer: don't hurt 'em!""
"Here comes the hammer - the Snowhammer!"
"Uh oh, (character name)! You can't dodge this!"
"Stop! Snowhammer time!"
Trivia
Mac Snowhammer is almost assuredly named after MC Hammer. All the dialogue lines resemble something that can be associated with that singer.
Ad blocker interference detected!
Wikia is a free-to-use site that makes money from advertising. We have a modified experience for viewers using ad blockers

Wikia is not accessible if you've made further modifications. Remove the custom ad blocker rule(s) and the page will load as expected.