Ad blocker interference detected!
Wikia is a free-to-use site that makes money from advertising. We have a modified experience for viewers using ad blockers

Wikia is not accessible if you've made further modifications. Remove the custom ad blocker rule(s) and the page will load as expected.
Luxon Merchant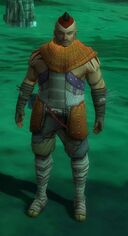 Classification
General
This merchant is often placed at a Resurrection Shrine outside a Luxon-controlled outpost. They sell the same as a normal merchant, the advantage being that you do not have to enter the outpost to sell loot
They can also be found in the exclusive area of an outpost. When spoken to in an exclusive area, they offer a discount. See Discount Merchant for details.
Location
Jade Sea (outside and inside Luxon-controlled outposts)
Echovald Forest (outside and inside Luxon-controlled outposts)
Skills used
When being attacked at a Resurrection Shrine.
Notes
When attacked, they will only run around and use Healing Signet. They will sometimes run through portals, making them hard to reach.