Lunar Gift Keeper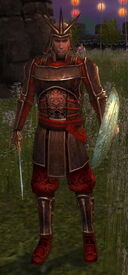 Classification
Locations
Dialogue
"It's my job to make these delightful little red gift bags, fill them with prizes provided by the emperor, and hand them out to those who collect enough tokens. If you bring me 5 Lunar Tokens, I'll give you:"
Collector Items
Lunar Gift Keeper
Location: Shing Jea Monastery, Lion's Arch, Kamadan, Jewel of Istan
Collecting: 5 Lunar Tokens
Notes
Also appears for a while after the end of the event.
Ad blocker interference detected!
Wikia is a free-to-use site that makes money from advertising. We have a modified experience for viewers using ad blockers

Wikia is not accessible if you've made further modifications. Remove the custom ad blocker rule(s) and the page will load as expected.