Ludo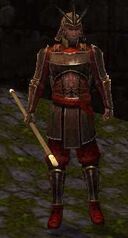 Classification
General
Ludo is an NPC in Shing Jea Monastery. Ludo is a part of Master Togo's staff and he helps monastery students prepare for the world of Cantha. He unlocks the gates into the monastery for new characters.
Quests Given
Location
Dialogue
"I am Ludo. Welcome to the monastery, young one. If you cannot learn it here, it may be that it cannot be taught."
Trivia
Ad blocker interference detected!
Wikia is a free-to-use site that makes money from advertising. We have a modified experience for viewers using ad blockers

Wikia is not accessible if you've made further modifications. Remove the custom ad blocker rule(s) and the page will load as expected.