Luci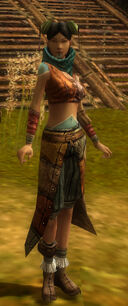 Classification
Dialogue
"Guardian moss is often used to cure disease, but it is also worn around the necks of Luxon Monks as their symbol of power and purpose in battle. I'd gather some of the valuable growth myself, but I'm afraid to venture through the seabed alone. Do me a favor and bring back 2 Guardian Moss, and I'll give you this:"
Collector Items
Luci
Location: Pongmei Valley right outside the northern exit of Boreas Seabed
Collecting: 2 Guardian Moss
Ad blocker interference detected!
Wikia is a free-to-use site that makes money from advertising. We have a modified experience for viewers using ad blockers

Wikia is not accessible if you've made further modifications. Remove the custom ad blocker rule(s) and the page will load as expected.