Lost Soldier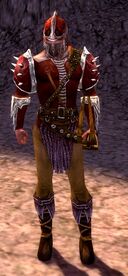 Classification
Map(s)


Location
General
Lost Soldiers are ranger soldiers of the Ascalon Army. They serve in King Adelbern's Guard and aid the player in saving Rin from the Charr.
Location
Skills used
Dialogue
"Are we there yet?"
"Behind is defeat. Ahead is victory!"
"I'm following you! Don't ask me!"
"Lead on friend. I'm right behind you."
"Let's go find some glory and honor."
"Onward!"
"Please be careful, I have a family to go back to."
"We shouldn't be standing out here if we're just going to talk."
"Whatever you decide to do, I'll go along with."
"You lead. I'll follow."
Notes
Be quick if you want them to be of any use, because they're close to a pack of Gargoyles and can be killed before you reach them.
Ad blocker interference detected!
Wikia is a free-to-use site that makes money from advertising. We have a modified experience for viewers using ad blockers

Wikia is not accessible if you've made further modifications. Remove the custom ad blocker rule(s) and the page will load as expected.