Lok the Mischievous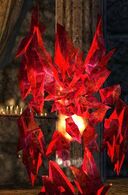 Classification
Description
Lok the Mischievous is an elementalist boss found in Arachni's Haunt.
Locations
Skills used
Items dropped
Notes
This Boss is very capable of wiping out your entire party if you're not careful or are clumped up. Be sure to interrupt him if possible; Broadhead Arrow, Maelstrom or Power Block are viable options. It is also possible to solo this boss with a sliver perma, which can make things a whole lot easier.
Trivia
The name Lok may be a reference to Loki, the Norse god of mischief and firelight.
Ad blocker interference detected!
Wikia is a free-to-use site that makes money from advertising. We have a modified experience for viewers using ad blockers

Wikia is not accessible if you've made further modifications. Remove the custom ad blocker rule(s) and the page will load as expected.