Lohfihau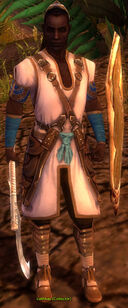 Classification
Dialogue
"The beautiful Sehyal... she must be mine! My brother Kushau says she has never even noticed me, but if I bring her headache powder to relieve her ills, she must surely understand that my love is true. And the best headache powder comes from Insect Appendage! I cannot leave my post, but if you could find me 3 Insect Appendages to win her heart, I will give you:"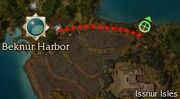 Collector Items
Lohfihau
Location: Issnur Isles, almost due east of Beknur Harbor on the first knoll
Collecting: 3 Insect Appendages
Ad blocker interference detected!
Wikia is a free-to-use site that makes money from advertising. We have a modified experience for viewers using ad blockers

Wikia is not accessible if you've made further modifications. Remove the custom ad blocker rule(s) and the page will load as expected.