This article is about a part of Guild Wars that has been removed from the game .

Please see the history of this article for further information.

Lo Pan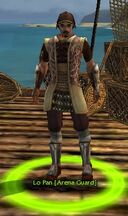 Classification
Lo Pan used to be the Arena Guard in Lion's Arch.
Location
Notes
This NPC was removed from the game when the Competition Arenas were closed down.
Lo Pan shares the same name as a popular character in the movie Big Trouble in Little China. Due to the inclusion of pop culture references in Guild Wars, it is possible Lo Pan is named after the movie character.
Ad blocker interference detected!
Wikia is a free-to-use site that makes money from advertising. We have a modified experience for viewers using ad blockers

Wikia is not accessible if you've made further modifications. Remove the custom ad blocker rule(s) and the page will load as expected.