Lian, Dragon's Petal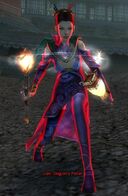 Classification
Map(s)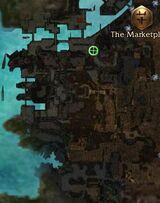 Location in Wajjun Bazaar
Description
Lian, Dragon's Petal is a Jade Brotherhood Elementalist boss who spawns in Wajjun Bazaar.
Note: She will not be there if you have the quest Closer to the Stars and are supposed to talk to Fishmonger Bihzun for the first time.
Location
Dialogue
During Deactivating P.O.X.:
"No Am Fah I have ever killed was worth remembering."
During the Trial of Zinn:
"gold and platinum
to gild Oola's arguments
all join against Zinn"
After the Trial of Zinn:
"a deft maneuver
Zinn loses cool after the case
bravo, Denn and Krayn"
Skills used
Items dropped
Notes
Trivia
Ad blocker interference detected!
Wikia is a free-to-use site that makes money from advertising. We have a modified experience for viewers using ad blockers

Wikia is not accessible if you've made further modifications. Remove the custom ad blocker rule(s) and the page will load as expected.