Description
Lesser Highlander Blades are a type of sword.
Location
Dye
The handle and brown middle stripe fully take color. The color of the metallic blade changes only slightly (an exception is black).
Notes
The Lesser Highlander Blade has a straight guard and is the smallest of the three Highlander Blades.
This sword was formerly the second, and smaller, of the two Highlander Blades. A recent update, however, renamed it to the Lesser Highlander Blade, as was probably intended with the release of GW:EN.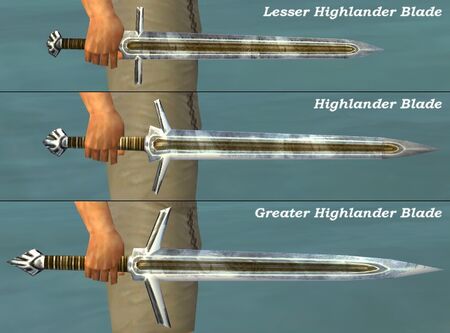 See also
Ad blocker interference detected!
Wikia is a free-to-use site that makes money from advertising. We have a modified experience for viewers using ad blockers

Wikia is not accessible if you've made further modifications. Remove the custom ad blocker rule(s) and the page will load as expected.