Labyrinth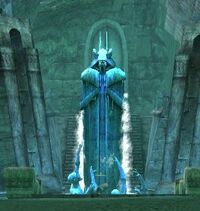 Basic Info
Neighbor(s)
None
Description
The Labyrinth is a crypt filled with narrow corridors in the center area of the Underworld. Players adventuring into the Underworld start in the southern part of the Labyrinth and usually make their way north and west to the Reaper of the Labyrinth.
The Labyrinth is plagued with several groups of the dreaded Bladed Aatxes and the occasional Dying Nightmare. Once the quest Clear the Chamber is taken (without which the locked doors will not open), the place will be swarming with Grasping Darknesses. This is why adventure groups will clear the path up to the closed doors first and take on the quest so they do not have to fight the Aatxes and Darkness at the same time.
The Labyrinth leads southwest into the Forgotten Vale, northeast into the Ice Wastes and south into the Twin Serpent Mountains.
The quest Unwanted Guests takes place in the Labyrinth. other quests starts there, and lead the party to other parts of the Underworld.
Ad blocker interference detected!
Wikia is a free-to-use site that makes money from advertising. We have a modified experience for viewers using ad blockers

Wikia is not accessible if you've made further modifications. Remove the custom ad blocker rule(s) and the page will load as expected.