Kwesi

Classification
Dialogue
"Drat that Ajambo! He put lodestones in my wagons to slow me down. That man can't stand a woman beating him at trade. He just can't keep up, that's all. I'm going to play his own trick against him. If you bring me 5 Sandblasted Lodestones, I can balance out my wagons and make it to town just as fast. Plus I'll have my lodestones and his to sell to the farmers there! That will fix Ajambo. If you get them for me, I'll trade you some of my goods:"
Collector Items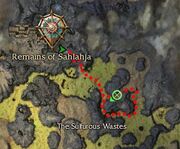 Kwesi
Location: The Sulfurous Wastes, southeast from Remains of Sahlahja
Collecting: 5 Sandblasted Lodestones
Ad blocker interference detected!
Wikia is a free-to-use site that makes money from advertising. We have a modified experience for viewers using ad blockers

Wikia is not accessible if you've made further modifications. Remove the custom ad blocker rule(s) and the page will load as expected.