Kveldulf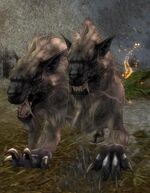 Classification
Description
Kveldulf are two-headed, two-tailed gray monsters whose front half is wolf-like and back half is that of a zebra. They are large, around the size of a draft horse . They spawn in a cave west of Gunnar's Hold in the Norrhart Domains. The cave has a posted notice outside it that says "Warning to Travelers".
Location
Skills used
Summoning Stone
Items dropped
Trivia
Miniature

---
Ad blocker interference detected!
Wikia is a free-to-use site that makes money from advertising. We have a modified experience for viewers using ad blockers

Wikia is not accessible if you've made further modifications. Remove the custom ad blocker rule(s) and the page will load as expected.