Kurzick Guard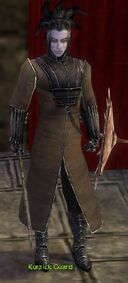 Classification
General
Kurzick Guards are normal Kurzick warriors found in most Kurzick lands.The Skills used Below are the ones used by the guards who defend the resurrection shrines.
Location
Dialogue
In Kurzick lands, and you are a Luxon supporter:
"Don't make me kill you."
"Watch it!."
If you are a Kurzick supporter:
"We take our orders from the priest."
"We're here to protect the shrine."
In the Divine Path:
"It is an honor to meet you."
Skills used
Notes
Resurrection Shrines are the shrines located right outside of towns and outposts. Each of these shrines is accompanied by 1 Kurzick Priest, 2 Kurzick Guards, and 1 Kurzick Merchant.
Ad blocker interference detected!
Wikia is a free-to-use site that makes money from advertising. We have a modified experience for viewers using ad blockers

Wikia is not accessible if you've made further modifications. Remove the custom ad blocker rule(s) and the page will load as expected.