Kurmauzeh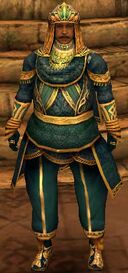 Classification
Map(s)

(Click to enlarge)
Dialogue
"They say it can't be done, but I'll show them. I am the greatest juggler that Vabbi has ever seen. If anyone can juggle geodes, it is the Flying Kurmauzeh. I only have one problem. I dropped all of my geodes and they cracked open. Damn skree harpies. Anyway, now I can't practice. I'm close. I know it. I just need 5 Geodes so I can get back to work. I can give you something the audience threw at me... I mean to me... during my last performance:"
Collector Items
Kurmauzeh
Location: Resplendent Makuun, inside Prince Bokka the Magnificent's palace near the portal to Bokka Amphitheatre
Collecting: 5 Geodes
Trivia
Ad blocker interference detected!
Wikia is a free-to-use site that makes money from advertising. We have a modified experience for viewers using ad blockers

Wikia is not accessible if you've made further modifications. Remove the custom ad blocker rule(s) and the page will load as expected.