Krait Neoss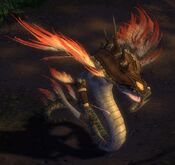 Classification
Description
Krait Neoss are the sword wielding warriors of the krait.
Location
Skills used
Items dropped
Notes
Lower-level Neosses will use Metamorphosis, sometimes immediately upon aggro, to transform into a random, higher-level "adult" krait. The original Neoss will disappear, and the new krait will not be linked to the original group.
Trivia
The name Neoss likely comes from Greek νεος (neos), an adjective meaning "young".
Miniature
---
Ad blocker interference detected!
Wikia is a free-to-use site that makes money from advertising. We have a modified experience for viewers using ad blockers

Wikia is not accessible if you've made further modifications. Remove the custom ad blocker rule(s) and the page will load as expected.