Kournan Guard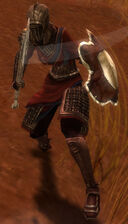 Classification
Description
There are five types of Kournan Guards, each of which has a different skill set. Level 16 Axe-wielders, level 20 Axe-wielders, level 20 Hammer-wielders and two types of level 20 Sword-wielders.
Locations
Skills used
Level 16
Level 20 Axe wielder
Level 20 Sword wielder (Marga Coast)
Level 20 Sword wielder (Pogahn Passage)
Level 20 Hammer wielder
Items dropped
Ad blocker interference detected!
Wikia is a free-to-use site that makes money from advertising. We have a modified experience for viewers using ad blockers

Wikia is not accessible if you've made further modifications. Remove the custom ad blocker rule(s) and the page will load as expected.