Kournan Captain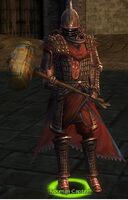 Classification
General
The Kournan Captain is a member of the Kournan military who appears during several quests.
Location
Skills used
Notes
During the Pogahn Passage mission, several Kournan Captains will fight against other Kournan military after rescuing Kormir and Shahai the Cunning. It is currently unknown whether this is intentional or not.
Ad blocker interference detected!
Wikia is a free-to-use site that makes money from advertising. We have a modified experience for viewers using ad blockers

Wikia is not accessible if you've made further modifications. Remove the custom ad blocker rule(s) and the page will load as expected.