Koro Sagewind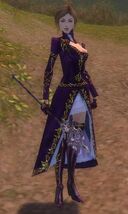 Classification
General
Koro Sagewind is an Ebon Vanguard soldier of the Ebon Falcons. She may spawn as a random ally in explorable area's in Kryta.
She uses the same design template as Althea and Elementalist skill animations rather than Mesmer.
Location
Skills Used
Dialogue
"My name is Koro, but YOU can call me the Great Vanguard Koro."
Battle quotes
Ad blocker interference detected!
Wikia is a free-to-use site that makes money from advertising. We have a modified experience for viewers using ad blockers

Wikia is not accessible if you've made further modifications. Remove the custom ad blocker rule(s) and the page will load as expected.