Koris Deeprunner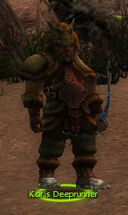 Classification
General
Koris Deeprunner is the character who accepts the pieces of the map. He can be found in Umbral Grotto.
Quests given
Dialogue
"I tell you, I thought we were going to find untold riches in gold and jewels in King Hundar's treasure; an entire room filled with ale wasn't even something I'd considered. I'm turning a handy profit on the brew. Tell all your friends that Deeprunner Lager is the finest in all the known lands!"
Note: This dialogue can only be seen after accepting the reward for Lost Treasure of King Hundar and before rezoning; otherwise he will always offer a dialogue related to one of his quests.
While in the Secret Lair of the Snowmen:
"I feel the treasure calling to me!"
Location
Skills
Related articles
Ad blocker interference detected!
Wikia is a free-to-use site that makes money from advertising. We have a modified experience for viewers using ad blockers

Wikia is not accessible if you've made further modifications. Remove the custom ad blocker rule(s) and the page will load as expected.