Korg Snowfoot
Classification
Map(s)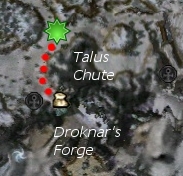 Location in Talus Chute
General
Korg Snowfoot is one of the dwarven scouts encountered in the Seeking the Seer quest. He is located in Talus Chute, a short run from Droknar's Forge. It will often be possible to walk to him while avoiding fighting the Mountain Trolls or Avicara Tengu in the area.
Quests Involved In
Location
Ad blocker interference detected!
Wikia is a free-to-use site that makes money from advertising. We have a modified experience for viewers using ad blockers

Wikia is not accessible if you've made further modifications. Remove the custom ad blocker rule(s) and the page will load as expected.