Kolgrim Bainwight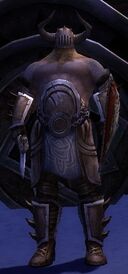 Classification
General
Kolgrim Bainwight can be found at Volsung's Stead arguing with Einarr Frostcleft over the privilege of battling and slaying Havok Soulwail, a great Jotun. He is also proud of his prowess in slaying warbling hemlock devourers.
Dialogue
"Can you feel the stirrings on the wind, little one? The jotuns are raiding! Today is a good day to hunt!"
Location
Notes
Ad blocker interference detected!
Wikia is a free-to-use site that makes money from advertising. We have a modified experience for viewers using ad blockers

Wikia is not accessible if you've made further modifications. Remove the custom ad blocker rule(s) and the page will load as expected.