Klaus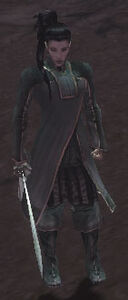 Classification
General
Klaus wants to become a Juggernaut to prove his worth in this world.
Quests Involved In
Location
Dialogue
"For years I've cowered behind my father's shadow, scared of everything...scared to disappoint him, scared to anger him, scared to fail. But that's all in the past. When I heard that volunteers were needed for some new juggernauts, everything suddenly became clear: the gods put me here to protect and serve my people! I have never been surer of anything in my entire life."
Notes
May be an allusion to Saint Klaus, or St. Nick.
Ad blocker interference detected!
Wikia is a free-to-use site that makes money from advertising. We have a modified experience for viewers using ad blockers

Wikia is not accessible if you've made further modifications. Remove the custom ad blocker rule(s) and the page will load as expected.