Kiishen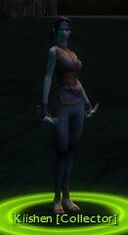 Classification
Map(s)

(click to enlarge)
Dialogue
"Have you heard? The emperor has officially declared the Am Fah enemies of Cantha! It is no secret that the Am Fah and we of the Obsidian Flame despise one another, but now that we have the emperor's backing, we can eliminate our rivals once and for all. If you wish to help us rid Cantha of these parasites, the Obsidian Flame will make it worth your while. Bring me 5 Plague Idols, and I will give you this in return:"
Collector Items
Kiishen
Location: Shenzun Tunnels, near exit to Nahpui Quarter
Collecting: 5 Plague Idols
Ad blocker interference detected!
Wikia is a free-to-use site that makes money from advertising. We have a modified experience for viewers using ad blockers

Wikia is not accessible if you've made further modifications. Remove the custom ad blocker rule(s) and the page will load as expected.