Keeper of the Spear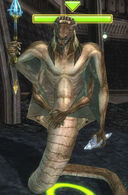 Classification
The Keeper of the Spear is one of the Forgotten collectors who award Forgotten items in exchange for a Book of Secrets, the Nightfall end-game reward item.
Location
Dialogue
"Learning human ways is difficult. Your kind are strange, fey creatures! I am glad that your actions saved your people... and mine. It gives me more time to study you, to understand your purpose in this great cosmic dance, as well as our own. Here, let us help one another. Bring me 1 Book of Secrets, so that I can craft something for you that forever will remind you that our people, humans and Forgotten, are forever linked."
Collector Items
Keeper of the Spear
Location: Throne of Secrets
Collecting: 1 Book of Secrets
Ad blocker interference detected!
Wikia is a free-to-use site that makes money from advertising. We have a modified experience for viewers using ad blockers

Wikia is not accessible if you've made further modifications. Remove the custom ad blocker rule(s) and the page will load as expected.