Ad blocker interference detected!
Wikia is a free-to-use site that makes money from advertising. We have a modified experience for viewers using ad blockers

Wikia is not accessible if you've made further modifications. Remove the custom ad blocker rule(s) and the page will load as expected.
Keeper of Whispers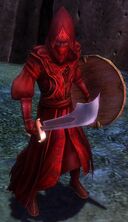 Classification
Location
Dialogue
"The Order of Whispers rewards those who fight valiantly against the demons within these realms. If you can show me proof of your deeds by bringing me one of each of the four gemstones that are found in the regions through the neraby portals, then I will reward you with a Coffer of Whispers."

I would like a Coffer of Whispers. Take 1 of each of my gemstones.

If you don't have enough gems:

"I am sorry, but you do not have enough of each of the four gemstones for me to grant you a Coffer of Whispers. Bring me 1 Stygian Gemstone, 1 Torment Gemstone, 1 Margonite Gemstone, and 1 Titan Gemstone if you wish to prove your valor to me."

If you have enough gems:

?

I don't have need of a Coffer of Whispers at this time. (ends conversation)
Reward
Word of Caution: the Coffer of Whispers turns into a random item, which can be of very low value compared to the value of the gems required to acquire it.