Keeper of Nature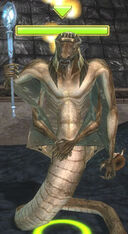 Classification
The Keeper of Nature is one of the Forgotten collectors who award Forgotten items in exchange for a Book of Secrets, the Nightfall end-game reward item.
Location
Dialogue
"Nature's will still sings in my veins with the change of the seasons and the running of streams. It has been many years since a hero of your stature walked these paths. Come. Let me help you in the name of the Ancient Ones. If you present me with 1 Book of Secrets, I will give you this in return:"
Collector Items
Keeper of Nature
Location: Throne of Secrets
Collecting: 1 Book of Secrets
Ad blocker interference detected!
Wikia is a free-to-use site that makes money from advertising. We have a modified experience for viewers using ad blockers

Wikia is not accessible if you've made further modifications. Remove the custom ad blocker rule(s) and the page will load as expected.