Keeper of Illusion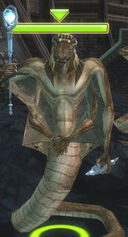 Classification
The Keeper of Illusion is one of the Forgotten collectors who award Forgotten items in exchange for a Book of Secrets, the Nightfall end-game reward item.
Location
Dialogue
"Laugh, my friend, for in your actions you have at last seen behind the mask. How many can say they have seen the true face of truth? Bring to me 1 Book of Secrets, and I will celebrate your great victory with another glimpse at that which lies beyond the veil."
Collector Items
Keeper of Illusion
Location: Throne of Secrets
Collecting: 1 Book of Secrets
Ad blocker interference detected!
Wikia is a free-to-use site that makes money from advertising. We have a modified experience for viewers using ad blockers

Wikia is not accessible if you've made further modifications. Remove the custom ad blocker rule(s) and the page will load as expected.