Keeper of Bone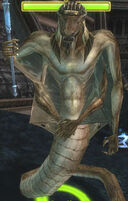 Classification
The Keeper of Bone is one of the Forgotten collectors who award Forgotten items in exchange for a Book of Secrets, the Nightfall end-game reward item.
Location
Dialogue
"Beneath the skin of the world are its secrets... the bones that hold aloft the weight of all things. You walk upon the body and breath of the world. Can you not feel it? Here, I will show you the truth. Bring me 1 Book of Secrets, I shall give you something crafted of the very bones of truth beneath this world."
Collector Items
Keeper of Bone
Location: Throne of Secrets
Collecting: 1 Book of Secrets
Ad blocker interference detected!
Wikia is a free-to-use site that makes money from advertising. We have a modified experience for viewers using ad blockers

Wikia is not accessible if you've made further modifications. Remove the custom ad blocker rule(s) and the page will load as expected.