Kaya (Collector)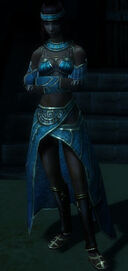 Classification
Dialogue
"Mwahahah! Those kids have broken into my garden for the last time! I warned Ahoj twice, but now I'm going to turn him into a toad! Oh, don't look so shocked. Kids these days are resilient. He'll bounce back in about the same time it takes you to get over a cold. Retrieve for me 5 Heket Tongues to make my spell work, and I'll grant you:"
Collector Items
Kaya
Location: Vehtendi Valley (outside the northwestern exit of Yahnur Market)
Collecting: 5 Heket Tongues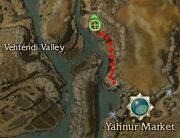 Ad blocker interference detected!
Wikia is a free-to-use site that makes money from advertising. We have a modified experience for viewers using ad blockers

Wikia is not accessible if you've made further modifications. Remove the custom ad blocker rule(s) and the page will load as expected.