Katurin Ehmbolem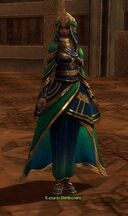 Classification
General
Katurin Ehmbolem is an NPC found in Resplendent Makuun just outside the portal to Bokka Amphitheatre. She stands near Brihan Chahu, and will often be found clapping.
Location
Dialogue
"I love the theatre. Anything is possible on stage. A pauper becomes a queen. An awkward school girl flowers into a magnificent dancer. Nothing on stage is ordinary...and neither am I."
Quotes
"If you can imagine, you can inspire. Especially on stage."
Trivia
Katurin Ehmbolem is presumed to be named after the same person as Catrine Embolom in Boreas Seabed.
Ad blocker interference detected!
Wikia is a free-to-use site that makes money from advertising. We have a modified experience for viewers using ad blockers

Wikia is not accessible if you've made further modifications. Remove the custom ad blocker rule(s) and the page will load as expected.